Songs from the British library
After the Great Uprising of 1857, the re-establishment and deeper penetration of the British colonial state in India resulted in the systematic collection of knowledge about things and people Indian. This period witnessed the planning and execution of several big surveys: the Archaeological Survey, the Geological Survey, and perhaps most ambitiously, a Linguistic Survey of the Indian Empire (LSI). In all 179 languages and 544 dialects in the Indian Empire, excluding some portions (Burma, Hyderabad and Mysore states and the Presidency of Madras) were described in the survey, published between 1903-1928. Here are a few songs recorded during the survey.
Song in Ahirwati by Husseina of Delhi (1920) :
Song in Brajbhasha by Bhudeva of Muttra (Mathura) (1920) :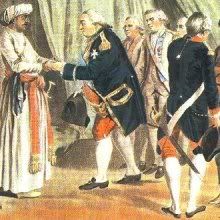 Song in Bhojpuri by Balram Prasad Mishra Rais of Basti (1920) :
Song in Bundeli by Babu Raghunath Prasad of Jhansi (1920) :
All the above recordings were made in Allahabad in 1920. It appears that not all singers were professionally equipped for the task. Instead important people from various districts were called to Allahabad and asked to sing songs and poems, and also tell stories prevalent in their respective regions.
More to come.